Telecom Conformance Analyzer
All-in-One Analog FXS & FXO, Acoustic, Cellular, VoIP, xDSL,T1/E1, and ISDN PRI Conformance Testing Solution
Key Standards
ETSI ES 203 021
TBR 21
TBR 38
TBR 4
TBR 12, TBR 13
TBR 10
FCC Part 68, TIA-968-A
CS-03
AS/ACIF S002, S003
S004, S016, S038
S041, S043.2
ITU-T G.703
G.823, G.824
G.992.1, G.992.3, G.991.2
G.992.5, G.993.1
P.313, P.340, P.342
P.862
ETSI TS 102 027 / RFC 3261
TIA-810A/B, TIA 920/A
3GPP TS 26.131, TS 26.132
3GPP TS 51.010-1
3GPP2 C.S0056-0 / TIA-1042
ETSI EN 300 903
The TCA 8200 Telecom Conformance Analyzer is an all-in-one compliance testing solution, according to world-wide regulatory & industry standards, for many types of telecom equipment ranging from phones to digital switches, PBXs and VoIP gateways.
In the past, approval of telecom equipment meant using a test lab with expert test engineers and numerous non-automated or semi-automated expensive test instruments and setups. Such a process usually took weeks. With the TCA 8200 you can complete tests and documentation required by the standards and agencies in a matter of hours, without a need for in-depth knowledge of the standards.
Due to liberalization of regulation processes in Europe, the USA and other countries, manufacturers can now perform in-house testing and declare compliance or apply for the approval of a regulatory agency.
Having an in-house compliance testing solution from the early design stages can significantly reduce time-to-market.
Test labs can also benefit from fast and cost-effective testing services for a broad range of interfaces and standards covered by the TCA 8200, its expandability and its extensive management features.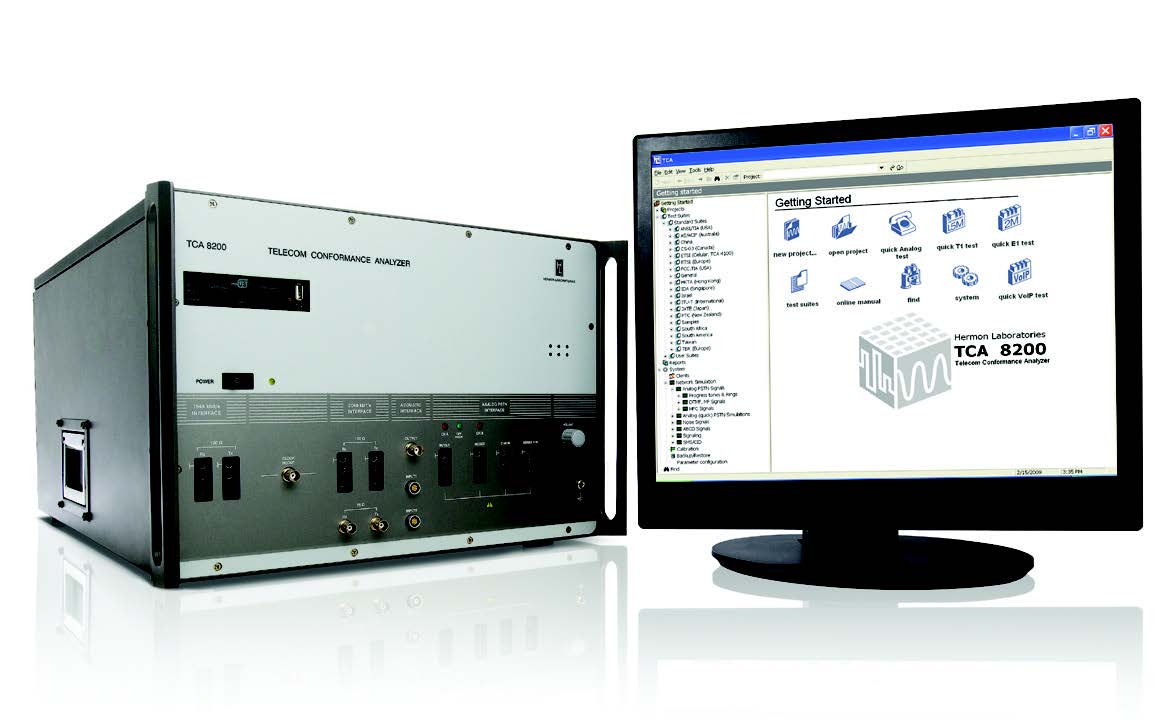 TCA 8200 replaces over 20 test instruments providing
a unique 'lab-in-a-box' solution
that significantly reduces test times and costs.
Main Features
Compliance testing according to major world standards
Fully automated testing & documentation
Built-in standards and general-purpose tests
Supports signaling and remote EUT control
User defined tests, test suites, and projects
Manual operation for development and debugging testing
Comprehensive online help
Powerful management, display and analysis features
Substitutes over 20 test instruments
Modular design – tailored to your needs
Analog FXS & FXO Testing
Hermon Laboratories TCA 8200 offers a complete and fully-automatic testing solution for products with analog FXS & FXO interfaces according to various industry and national regulatory standards.Supported Equipment
Telephones
Modems
PBXs
Analog/T1/E1/VoIP gateways
switches and IADs
DSL Testing
TCA 8200 offers a compliance testing solution for: xDSL, ADSL, ADSL2, ADSL2+, HDSL, HDSL2, HDSL4, SHDSL, SDSL, VDSL COs and CPEs according to ITU-T & ETSI industry standards and various national US, Canada, Europe, Australia, Taiwan, etc regulatory standards.
The DSL tests cover the electrical characteristics and transmit power requirements for various DSL equipment.
Voice Quality Testing (VQT)
The VQT provides a software option for Hermon Laboratories TCA 8200.
Voice Quality Testing (VQT) utilizes PESQ (Perceptual Evaluation of Speech Quality) and POLQA algorithms to assess the voice quality of telecom equipment and networks.
VoIP Testing
Hermon Laboratories provides a fully automatic test solution for VoIP enabled products including VoIP phones, PBXs, gateways and VoIP servers for conformance, performance and functional testing.
VoIP test solutions include:
Acoustics and telephonometry conformance tests of wireline & wireless, narrowband & broadband handset and hands-free VoIP phones (IP phones, soft phones, Wi-Fi handsets) per TIA/EIA-810A/B, TIA/EIA-920/A, ETSI ES 202 737 – 40, Voice Quality Testing
Acoustic Testing
TCA 8200 is a highly integrated acoustic test solution that provides the hardware and software required for the automatic testing of almost any type of analog and digital phone or electro acoustic device.
The system can be optionally configured with a VoIP software interface, analog PSTN interface, cellular RF base station simulator, wireless DECT, Wi-Fi base stations, Bluetooth wireless interface, and acoustic interfaces: HATS (Head and Torso Simulator) or test head.
The interfaces are configured and automatically controlled through the system software and calibrated together with the system.
Signaling Testing
TCA 8200 built-in Signaling Simulation & Analysis provides a powerful set of tools found in standalone network line and switch simulators. It allows simulation and analysis of various analog, digital (T1/E1) and VoIP signals, conditions and messages that are used in telecom networks.
T1/E1 Testing
TCA 8200 offers an automatic testing solution for T1/E1 products according to industry standards and various national regulatory standards. The T1/E1 tests cover layer-1 electrical characteristics of input and output ports, combined analog and digital transmission and functional characteristics of framed and unframed interfaces, Voice Quality testing and ISDN PRI protocol testing.